Lost packages
Here is a post Lost Packages about what to do if, when attempting to install a package you get a message like package ggfortify is not available (for R Version 3.2.4).
Importing data update
If you're having a brain melt figuring out the difference between read_csv and read.csv and their use in the RStudio Import Dataset tool, look at this post about using the readr package and read_csv function to import data.
About the first edition of Getting Started with R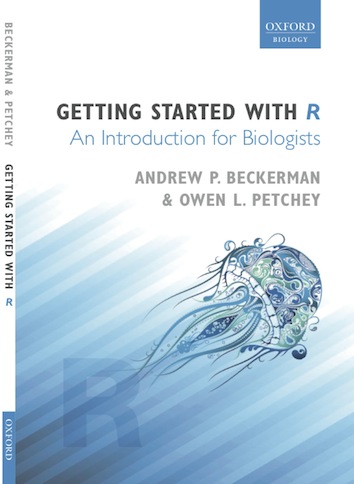 "Blowing away any feeling of intimidation is what this book is about." – Graeme Ruxton, Trends in Ecology Evolution.
Designed for undergraduates, grad students and staff, we show you how to import, explore, graph, and start analysing your data, keeping you focused on your ultimate goals.
A simple, easy, and engaging introduction to R for biologists.
Walks readers through the fundamentals of using R, from that first step of importing datathrough to managing and exploring it and ultimately producing figures and analyses
Delivers an efficient, accurate, reliable, and reproducible workflow.
We provide a simple, efficient, reliable, accurate, and reproducible workflow for you in an engaging and sometimes humorous format.
Getting Started with R – its the book you and your students want to read before all the others.
Well, it was. Now you should only look at the Second Edition.